Last Updated December 3, 2013
In my previous post I outlined some key differences between Blendtec and Vitamix blenders, and now I'd like to compare differences within the Vitamix line to help you make the best choice.
The array of different Vitamix blenders is a bit confusing, but it turns out that there is a lot of redundancy between the different models. I am only discussing models made for consumer/home use. Their commercial blenders are not ideal for home use because they are generally more expensive and have shorter warranties (3 years vs 7 years for home use; they are warrantied for constant use—think of how many times per day a blender at Jamba Juice runs compared to at your home).
The Vitamix website currently lists 12 different home models, but they are all variants of two main designs: "standard," and "next generation" (they used to all be variants of a single design, but Vitamix released a new one in 2012). For each of the two main designs there are a few different options, to make a total of 6 different machine types. The rest of the models are identical bases, but come with different pitchers and/or accessories.
Quick Recommendations
If you don't want to go through the nitty-gritty of the comparison, here are my quick recommendations: tight budget: reconditioned Standard ($329)
mid-range: 5200 ($449)
latest & greatest: Pro 750 ($689) (possibly less on Amazon)
UPDATE: I think my previous recommendations unfairly passed over the 7500, and I just noticed that Vitamix has dropped its price to $529. If I were buying a new machine now, this is the one I would be looking at. It's not that much more than the 5200, and the presets are the only feature the Pro 750 adds. UPDATE II: The reconditioned 7500 is now available  for $439.
Summary of Differences
I made a comparison chart to show the relations between the different machines (it includes all consumer models, except the TurboBlend Two Speed, which is a standard machine that lacks variable speed control). The machines within each box of the chart are identical, but they come with different accessories and cookbooks. Generally I would say that the differences in accessories/cookbooks are pretty marginal, so I'd recommend going for the lowest price model within the box. The main exception is if a vegetarian/vegan/raw cookbook appeals to you, look at the TurboBlend VS, which comes with one as well as a nutmilk straining bag.
Standard Motors
There are three types of bases of the standard variety. The differences are in the controls. The dimensions of the base of these machines are 8.75″ deep x 7.25″ wide x 8.25″ tall. There are three different container size options: 32 oz, 48 oz, and 64 oz, which result in height of base plus container/lid of 16.9″, 17.4″, and 20.5″ respectively.
Standard no variable speed (Vitamix TurboBlend Two Speed)
TurboBlend Two Speed ($399), aka Vitamix 4500. This machine comes with a 5-year warranty and lacks the variable speed knob. Variable speed is useful for cases where you want to have finer control over the texture (i.e. if you don't want a totally smooth purée). However, you can accomplish some non-liquefying chopping tasks by quickly pulsing the machine. Another task I use variable speed for is this trick to remove bubbles. While this is the most affordable new machine, I'd highly recommend looking at the reconditioned 5200, which has the same warranty and adds variable speed for $70 less.
Standard variable speed (Vitamix 5200 et al.)
Until recently this was Vitamix's bread and butter, and they have a lot of models to show for it: 5200 ($449), TurboBlend VS ($449), CIA Pro ($529), Pro 200 ($479), Creations II ($449), and Creations GC ($499). These machines are essentially identical. The Creations GC comes with a marginally more powerful motor. The aesthetics of the switches and dial are slightly different between the different models. Also, the handles on the TurboBlend VS and Creations II containers are not rubberized, while the others have rubberized handles. The Creations models come with a 5-year warranty, while the rest are 7 years. The 5200 comes with their "whole foods cookbook," the TurboBlend VS comes with a vegetarian/vegan/raw cookbook and a nutmilk straining bag, the Pro models come with a cookbook with restaurant-oriented recipes (the CIA one—that's Culinary Institute of America—comes with an additional recipe book), and the Creations models come with a cookbook that I cannot find any details on. Given the shorter warranty on the Creations models, it does not make sense to buy these from Vitamix; QVC sometimes runs deals on them that make them more attractive. In my opinion the best Vitamix bang for the buck is the $329 reconditioned Standard, which comes with a 5-year warranty and unused container/tamper. Note that if you buy reconditioned, you cannot choose which of the Standard models you are getting; Vitamix will choose for you based on availability, but remember that functionally they are identical.
Standard variable speed + presets (Vitamix 6300 and Professional Series 500)
Pro 500 and 6300 ($649). This unit is now available reconditioned for $379. These are the same model; the only difference is that the 6300 comes with the "Savor" cookbook, which has a broader range of recipes than the Pro 500′s "Create" cookbook, which focuses more on restaurant-style recipes that tend to be richer.) They have 3 preset programs that run the blender for a certain amount of time and speed for smoothies, frozen desserts, and hot soups. Their switches are slightly different from the non-preset models. The non-preset models have an on-off switch, a variable speed knob, and a high-variable speed switch. The preset ones have moved the highest speed setting onto the knob and replaced the high-variable speed switch with a pulse switch. This is really a minor aesthetic difference, since you can achieve pulsing on the non-preset models by quickly flicking the on-off switch on and off. Some people love the presets because you can set it and walk away (assuming the mixture is circulating and you don't need the tamper), and because they get more consistent results. However, the more consistent results will only hold if you always add the same quantities and types of items to the blender. For example, if you're making a small smoothie, you can blend it for less time than if you were making a large one. One other thing is that you can set the non-preset machines and walk away—you just have to come back to stop them. I often use the blending time to rinse off the knife and cutting board that I used. You're not likely to forget that the Vitamix is running because it's loud enough to hear throughout the house. The variable speed knob goes to the same high speed as the previous models on high, but it's lowest setting is a bit faster than on the 5200 et al., so you lose a tiny bit of fine control. Whether the presets are worth it is a personal question—I wouldn't pay extra for them, but some people love them.
Standard no variable speed + presets (Vitamix 6000)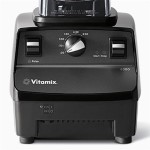 6000 ($599). This is the most recent Vitamix model to be released (October 2013), but it's more of a mash-up of existing machines than a true new one. It's a sort of blend between the Two Speed, and the 6300. It does not have variable speed control, but it has six preset timed blending settings. These settings will automatically ramp up the speed, and then turn it off after a specified time of 20 sec, 30 sec, 1 min, 1.5 min, 4.5 min, or 6.5 min. Like the 6300, the pulse control is spring-loaded so that it only stays on as long as you hold it down, and it blends at a medium-low speed.
Next Generation Motors
This year Vitamix released a new base that is slightly more powerful and quiet than the standard one. With the extra power, the base can use a new pitcher design that is wider and has longer blades. This design makes the tamper less necessary, and makes it easier to get thick mixtures out. The longer blades reportedly process food faster and work better for chopping. The new machines are compatible with the old containers, so if you want to use the dry blade you can use the same classic dry container. These machines also have improved motor cooling so that they're less likely to overheat. The standard design only cools efficiently when it's on high, whereas the new models always maximize cooling. (All Vitamix machines have a thermal overload sensor that will turn off the machine before it gets so hot that it's destroyed. I've never tripped it myself, but if you do set it off, it's not the end of the world—you just have to wait for the machine to cool down before you can run it again.) Dimensions are 9.4″ deep x 7.7″ wide x 17.5″ tall (with new-style 64-oz container in place).
Next generation motor (Vitamix 7500, Professional Series 300, and Creations Elite)
7500 ($529), Creations Elite ($557.50), and Pro 300 ($559). Now available reconditioned for $439 (when they can keep it in stock)! These are all the same machine, but the Creations Elite comes with a 48-oz container, while the other two come with the new-style 64-oz containers. The Creations Elite also comes with a 5-year instead of 7-year warranty.
Next generation motor + presets (Vitamix Professional Series 750)
Pro 750 ($689). Now available reconditioned for $519. This machine has 5 presets: smoothies, frozen desserts, purées, hot soups, and self-washing. The presets are different from the standard presets in that instead of just being timed sequences of speeds, they use feedback from the blade resistance and a microprocessor to adjust the speed. So in principle these presets should work better because they can adjust to what's happening in the pitcher. I haven't found an objective source that evaluates how much better these work, but most of the opinions I've read of them are positive. Update: This model is currently out of stock from Vitamix, Back in stock, but you might find it for less on Amazon.
Satisfaction Guarantee
Vitamix has a 30-day satisfaction guarantee, so if you have second thoughts you can return a machine within the first 30 days for a full refund and they even pay return shipping.
Warranty
If your machine has any problems during the warranty period of 5 or 7 years they will repair or replace it, and they cover any shipping costs both ways.
Reconditioned Vitamix
Nov 1 Update: For the month of November Vitamix has further discounted their Standard Certified Reconditioned models by $30!

I know I already mentioned reconditioned machines, but I want to restate what a great deal I think they are. They carry the same warranty as new machines, except for 5 years instead of 7. Vitamix recently put up a page detailing the reconditioning process. Machines are fully tested at the Vitamix factory where any sub-par parts are restored to new condition or replaced with new components, and then they are packaged with a brand new container shell, lid, tamper, cookbook, and DVD. These factory-refurbished machines offer the best prices you'll find on Vitamix: Two Speed for $299, 5200 for $329, 6300 for $379, 7500 for $439, and Pro 750 for $519. Note that for all of the refurbished Vitamix blenders, Vitamix may substitute an equivalent model (except for the Pro 750—there are no other equivalent models for that machine). So your machine may come with a different name, but it will be functionally equivalent to either the 5200, 6300, or 7500.
Free Shipping
Clicking on any Vitamix link on this page will automatically apply a promotion code, which gives you free shipping on your order of a Vitamix machine. Alternatively, if you order via phone you can get free shipping by telling the representative that you'd like to apply promotion code 06-007021. For more details, see my page about the Vitamix promotion code.
Recommended Accessory
These spatulas are helpful for getting every last bit of thick mixtures out of the container. I reviewed them here. If you get them at the same time as your machine you can save on shipping (my free shipping code only works on orders that include a machine).
Dry Container
If you're wondering if you should get a dry container, this new post is for you: Is the dry container worth it?
Phew… so that completes my round-up. I'm looking forward to getting back to describing some actual recipes!