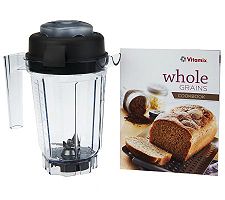 Back in November I found a sweet deal on a Vitamix Dry Blade Container, and it sold out within a couple of days. Now it's back. This container usually sells for $144, but QVC is offering it for $50. Check out the sale: Vitamix 32oz. Dry Blade Blending Container with Recipe Book
. The product page has a message that suggests purchasing the container with a Vitamix machine, but last time around QVC had no problem shipping it alone. Shipping is $7.97. Apologies for the three shopping-related posts in a row, but they're all time-sensitive so I wanted to get them up. I have some other content on the way; in the meantime you can browse the published recipes list. Note that this deal comes with a cookbook, but it does not come with a tamper. For most dry grinding you don't need a tamper, so I don't think it matters. It's also true that if you have a tamper for any current Vitamix container except the Next Generation wide 64-oz container, it will work with this container. The main thing I use my dry grains container is for grinding grains to make bread. My current standby recipe is a sourdough rye. Having fresh whole-grain flour is great because stored whole grain flours can go bad due to the oil in the germ becoming rancid. Also, If you ever want to customize your flours (i.e. making non-wheat flours) you can save money by grinding them yourself. The dry blade also works slightly better for chopping hard vegetables into coarse pieces than the wet 3-inch blade because it pushes the pieces up away from the blades instead of pulling them down under the blades.
---
Did you enjoy this post?