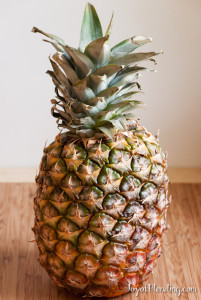 Pineapple is a nice addition to fruit smoothies. It is particularly sweet and juicy, and a bit sour. I use it in a variety of random fruit mixtures (along the lines of this one). Cutting one up may be a little intimidating at first, but it's actually very straightforward (see below), and I've found that a partially cut pineapple can keep for about a week in the fridge.
Having one feels like a bit of a luxury since they're typically flown in from Costa Rica or Hawaii, but it's a nice change of pace. Since they come from the tropics, they're generally available all year. Years ago someone recommended Del Monte Gold branded ones to me, and those are the ones that I've found to be most consistently delicious.
When picking one out, give them a sniff and look for a fragrant one. It should have a little give, but not be too soft. It generally should have at least some orange/red coloration towards the bottom. Unless it's maximally ripe I usually leave it out of the fridge until I cut into it. I read somewhere that storing it upside-down helps prevent the bottom from getting overripe so I do it, but I'm not sure if it makes a difference.
To prepare, I first twist off the top and discard it. Then I use a big knife (an 8-inch chef's knife) to slice out a wedge that's about an eighth to a twelfth of the pineapple by starting the knife point in the top of the center, and then pushing down. I usually use a quarter to a third of a pineapple per smoothie, so that's usually 3 wedges. Then I trim off the skin by slicing off the top, bottom, and then the side of the wedges. I leave the core in and usually don't worry about removing all trace of the "eyes." If I want to avoid using the tamper, sometimes I slice the wedges in half or thirds so they blend more easily.
For storage, I press a layer of cling wrap onto the cut surfaces, and then put into a produce bag, and keep it in the fridge for up to about a week.
---
Did you enjoy this post?