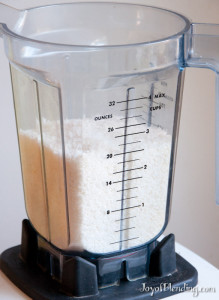 I've been curious about making coconut butter for a while, and I finally gave it a shot. It's made from dehydrated whole coconut, not to be confused with coconut oil, which has been separated from the coconut's fiber/protein.
I used an 8 oz bag of shredded coconut, minus a few tablespoons that I previously tried putting in a smoothie. (I was disappointed with the smoothie because the coconut was a bit grainy; I'm curious if smoothies made with the coconut butter will be less grainy.) I used this Lets Do Organic brand, though I bought it locally–I paid a bit more per weight, but I'm not ready to commit to 6 pounds of it yet. I was slightly concerned that 8 oz wouldn't be enough to circulate well in the Vitamix, but it turned out to work fine. If you're an avid coconut butter consumer, you could consider doubling or tripling this recipe, but for now I'm just testing the waters.
I blended on high and used the tamper at first. After about a minute it started to appear wet. Part of what happens is that in addition to being blended up, it heats up and the coconut oil that is solid at room temperature (at least in winter) melts. Because I was making a small amount, the circulation was a bit limited, and the tamper did not reach the mixture very well. So I stopped it and used a chopstick to push the bits that were stuck in the corners towards the blades. (Remember to keep the chopstick far from the blender when it might be turned on!) I only had to use the chopstick once, and after I ran it for about another minute I had a warm liquid mixture, about one third the volume of the original shredded coconut:
It was a bit grainy, so I blended it for another minute, though it didn't seem to make much difference. I guess the fiber just prevents it from being completely smooth. At this point it was totally liquid, so it was very easy to pour out into a container for storage. Some people suggest storing it at room temperature so that it stays soft, but I'm going to keep it in the fridge to be on the safe side. I plan to scoop it out with a hot knife or spoon as I need it (It gets very hard in the fridge).
It's pretty tasty, though I'm not blown away by it. I'll post an update if I find something good to do with it.
Update: A virgin piña colada using this was pretty good. And one note on storing the coconut butter: If I make it again I might pour it into something like an ice cube tray so that it forms into single tablespoon chunks–storing it in the fridge made it quite hard, and it takes a lot of scraping to get it out of my single container. The idea of the hot spoon/knife did not work so well.
Update II: Another use: coconut lime rice. After cooking rice, mix in some coconut butter and lime juice. It tastes really good! On a different note, I've found that for general smoothies just adding shredded coconut works pretty well. The coconut butter might be marginally smoother, but the difference is minimal, and if you have a smoothie with fibrous things that have a little texture (such as kale), the difference in coconut texture is even less noticeable. If you want something maximally smooth I think you're better off using coconut milk that's had the fiber removed (you can make it yourself by blending coconut with water and then straining it).
---
Did you enjoy this post?