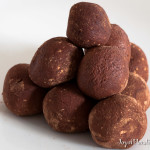 I came up with this recipe to satisfy a chocolate craving when there was no chocolate in the house. Luckily we almost always have cocoa and sugar on hand, and I also had some soaked and dried walnuts in the freezer. Using soaked walnuts is important because it removes the astringent bitterness of the walnuts that I don't think goes well with dessert. In principle, this recipe is similar to the nutella I previously described because we're mainly just blending nuts with chocolate, but the result is different.
This recipe is close to the bare minimum to blend in a narrow Vitamix container, and required stopping a few times to push the mixture back into the blades with a spatula. If you want to make life easier for yourself, double the recipe. If you have one of the new wide containers you would need to make even more.
1.25 cups soaked and dried walnuts
6 Tbsp cocoa
2 Tbsp sugar
5 Tbsp water
Blend on high until smooth. You may need to stop and scrape mixture down walls back into blades a few times. If you'd rather not use sugar you could use a substitute, but in limited quantities I don't see anything wrong with the real thing. You can of course add more sugar or cocoa depending on your taste. I'm a fan of lots of chocolate and not too much sugar.
If you want to get fancy you can roll it into balls and coat with cocoa. It's a thick mixture, so getting it out will involve some scraping. Rather than stressing about getting every last bit, enjoy a chocolatey drink by adding a little water or milk after you've removed most of it and briefly run the blender on high.
---
Did you enjoy this post?