2015 Update
: Vitamix and Blendtec have not yet announced this year's Black Friday Deals. This page will be updated as soon as they do. To receive notification of 2015 Black Friday Vitamix and Blendtec deals, you can enter your email here:
(This email list will be exclusively for Black Friday Notifications, and your email address will not be shared for any reason. If you would like to subscribe to all updates from this blog, you can use the subscription box on the right or at the end of any post.)
You can see last year's deals below. For the best current deals, take a look at the reconditioned Vitamix offerings, and remember that you can always use promotion code 06-007021 for free shipping.
Black Friday and Cyber Monday 2014 are here, and both Vitamix and Blendtec have a few limited-time sale offerings for the holiday shopping season. The deals this year are similar to last year's, except some are better.
Like last year, the best savings are on reconditioned models from both Vitamix and Blendtec. (If you're looking for a Blendtec, jump ahead to Blendtec deals.)
Reconditioned Vitamix Deals
For this week only (starting today, November 24th 2014, and running through Cyber Monday, December 1st) the Reconditioned Vitamix 5200 is even further discounted to $285. This is the lowest price ever for this model! The additional discount applies to black, red, and white units.
This is the Vitamix I recommend for price-conscious buyers. I think it's a good deal at $329, and at $285 it's an excellent deal. If you've been on the fence, now's the time to buy. In case you do not already know, Reconditioned Vitamix machines are just as good as new. The only functional difference is that the warranty is 5 years instead of 7, although if you want a longer warranty you can add a three-year extension for $75. So, for $360, you could have a machine with an 8-year warranty—cheaper than new, and with a longer warranty. (The warranty service level is identical between new and reconditioned—everything is covered for the full period.)
You can also take an additional $30 off the Reconditioned Standard w/ Programs (6300/Pro 500 down to $349). We've seen this discount before, but it's still an excellent deal.
I have long thought reconditioned Vitamix machines are the best deal, and these extra discounts makes them that much better. When I buy for myself, or as gifts, I buy reconditioned, as do the Vitamix employees who I have talked to.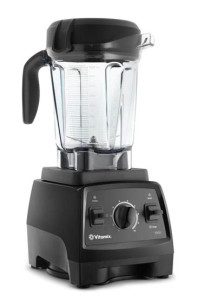 Also, Vitamix recently reduced the price on the Reconditioned G-Series (7500) by $20 to $439, and the Reconditioned G-Series Programs (Pro 750) by $10 to $519. (If the model/color you want is currently out of stock, you can sign up for my availability notification alerts.) If you are confused about all of the different Vitamix models, check out my Vitamix comparison page.
Vitamix Dry Container $50 Deal
There is a Vitamix container deal still running where you can buy a dry container for $50 (down from $144). No added purchase necessary. (Detailed dry container deal write-up)
Any Vitamix Container $50 with a New 5200
If you don't want to buy reconditioned (even though Reconditioned Vitamix machines are as good as new), you can add any container to an order of a new 5200 for just $50. Just add them both to your cart along with coupon code 06-007021 (applied automatically if you click any link from this site), and you should see the discount in your cart.
Refurbished Blendtec Deals
Similar to Vitamix, you can take an additional $30 off of Blendtec certified refurbished units. Starting Nov 26th and running through Cyber Monday, Dec 1, the additional Blendtec discount is increased to $50 off certified refurbished units!

You can get a Blendtec Total Blender for as low as $209.95 if you want their slightly more compact jar. Otherwise the Total Blender is $229.95 with the wider "WildSide" jar. These are the lowest prices ever!
If you want a sleeker machine with touch control and a speed slider (instead of up-down speed buttons) you can step up to the Blendtec Designer Series for $329.95, which comes with the WildSide jar.
Note that while Blendtec calls these machines "Certified Refurbished," and Vitamix calls their similar machines "Certified Reconditioned," there is no difference other than the word. Both Vitamix and Blendtec refurbish/recondition their machines at their factory and guarantee them to work as good as new. They also give them the same level of warranty support as their new machines.
Free Shipping
As usual, free shipping will be applied in your cart if you click any of the links from this page.
Black Friday Pricing Note
One other thing to note about Vitamix Black Friday deals is that Vitamix has pricing agreements with most of its retailers that prevent retailers from discounting Vitamix machines. Probably for this reason, I have never seen a Vitamix doorbuster advertised at a brick-and-mortar store. I am less certain about Blendtec's agreements, but generally Blendtec machines are not sold in brick-and mortar stores.
International Availability
The reconditioned Vitamix deals are only available within the US. If you are outside the US and have access to a US shipping address, you can place a phone order at 1-800-848-2649, and you can use promotion code 06-007021 for free shipping. The refurbished Blendtec deals can ship to both the US and Canada.
Expiration
The current word is that these deals are good through Cyber Monday, December 1st 2014, or while supplies last. In the past these sorts of deals have occasionally run longer than the initially stated expiration, but to be on the safe side you should get your order in as soon as possible because at these prices certain models/colors may sell out. I will try to update this page as soon as the deals are no longer live.
Happy shopping!
P.S. If you're wondering why some comments date back to last year, I originally published this page a year ago. I have now completely updated it to reflect the best Blendtec and Vitamix Black Friday 2014 deals, but I decided to keep last year's comments intact. Thank you for your comments!
---