Updated Nov 2014
Black Friday 2014 is coming soon, and both Vitamix and Blendtec have a few limited-time sale offerings for the holiday shopping season. The deals this year are similar to last year's but some are slightly better.
Like last year, the best savings are on reconditioned models from both Vitamix and Blendtec. These deals are scheduled to run through the end of November.
Reconditioned Vitamix Deals
You can take an additional $30 off Reconditioned Standard Vitamix (5200 down to $299) and $30 off Reconditioned Standard w/ Programs (6300/Pro 500 down to $349). We've seen this discount before, but it's still an excellent deal.
I have long thought reconditioned Vitamix is the best deal, and the extra $30 off makes it that much better. When I buy for myself, or as gifts, I buy reconditioned, as do the Vitamix employees who I have talked to. If you'd like, you can read more details about reconditioned Vitamix.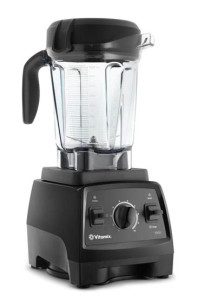 Also, Vitamix recently reduced the price on the Reconditioned G-Series by $20 to $439, and the Reconditioned G-Series Programs by $10 to $519. Note that availability of both of these models is particularly limited—if the model you want is currently out of stock you can sign up for my notification list.
Vitamix Dry Container Deal
There is a Vitamix container deal still running where you can buy a dry container from for $50
(down from $144). (Detailed dry container deal write-up)
Refurbished Blendtec Deals
Matching Vitamix, you can take an additional $30 off of Blendtec certified refurbished units.
You can get a Blendtec Total Blender for as low as $229.95 if you want their slightly more compact jar. Otherwise the Total Blender is $249.95 with the wider "WildSide" jar. These are the lowest prices ever!
If you want a sleeker machine with touch control and a speed slider (instead of up-down speed buttons) you can step up to the Blendtec Designer Series for $349.95, which comes with the WildSide jar.
Note that while Blendtec calls these machines "Certified Refurbished," and Vitamix calls their similar machines "Certified Reconditioned," there is no difference other than the word. Both Vitamix and Blendtec refurbish/recondition their machines at their factory and guarantee them to work as good as new. They also give them the same level of warranty support as their new machines.
Free Shipping
As usual, free shipping will be applied in your cart if you click any of the links from this page.
Black Friday Pricing Note
One other thing to note about Black Friday and Vitamix is that Vitamix has pricing agreements with its retailers that prevent retailers from discounting Vitamix machines. For this reason, there are never any Vitamix doorbusters at retail stores. I am less certain about Blendtec, but generally Blendtec machines are not sold in retail stores.
International Availability
The reconditioned Vitamix deals are only available within the US. If you are outside the US and have access to a US shipping address, you can place a phone order at 1-800-848-2649, and you can use promotion code 06-007021 for free shipping. The refurbished Blendtec deals can ship to both the US and Canada.
Expiration
The current word is that these deals are good through Cyber Monday, December 1st, or while supplies last. In the past these sorts of deals have occasionally run longer than the initially stated expiration, but to be on the safe side you should get your order in as soon as possible because at these prices certain models/colors may sell out. I will try to update this page as soon as the deals are no longer live.
Happy shopping!
---