Cool off from a hot summer day with homemade snow cones! Crushing ice into "snow" in a Vitamix is easy as long as you don't try to make too much at once. Just toss in ice and blend for a few seconds.
With a wide (low-profile 64-oz) Vitamix container, I've found that one ice cube tray's worth works well. That's about 18 oz of ice cubes, made from 12 oz of water. When I tried two ice cube trays, larger chunks of ice embedded themselves in the snow sticking to the walls and didn't get fully crushed. Unlike almost all other Vitamix blends, the tamper is not helpful here because it just compacts the ice and snow into the bottom corners.
Ingredients
~2 cups ice cubes
Blend on high until fully pulverized, ~5 seconds.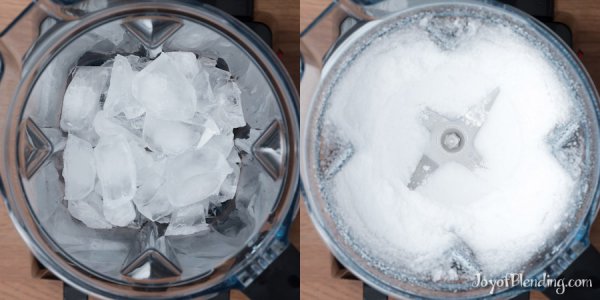 I made a blue syrup using vanilla and butterfly pea flowers (leftover from my blue smoothie recipe).
Syrup Ingredients
1 cup water
1 cup sugar
2 Tbsp butterfly pea flowers
2 tsp vanilla extract
Heat water and sugar on stove until it boils, then remove from heat and add butterfly pea flowers. Leave flowers infusing until cool, then filter out the flowers by pouring through a sieve. Add vanilla and store syrup in the fridge.
Many people use squeeze bottles for dispensing the syrup, but a measuring cup with a pour spout works as well.
The vanilla gives it a pleasant flavor, and you could use more or less, depending on how you like it.
There are countless other possibilities for syrup. I found the traditional snow cone cups at Smart & Final, and they have a wide variety of premade syrups:
You can make your own fruit syrup by simmering fruit and sugar in water and then filtering. Some people use Kool-Aid mix to make syrup, and others use frozen juice concentrate. Or, for a less colorful but delicious option, try maple syrup.
---
Did you enjoy this post?