This year Vitamix isn't offering much in terms of a 2020 Labor Day Sale. That's likely because Vitamix is struggling to keep machines in stock in these COVID times due to the combination of limited supply and strong demand from people who are spending more time at home. Vitamix also just launched three new products: the Stainless Steel Container, the Food Processor Attachment, and the FoodCycler FC-50, so I think they're focusing on selling those at full price. That said, there is one particularly good discount available now.
Reconditioned Venturist V1200
Reconditioned Vitamix machines are always a great value because they are indistinguishable from new machines, but they are even better when they are on sale. These deals are super popular and they are in limited supply, so they might sell out. If they do sell out, it's possible that more will become available, so check back daily. And if you see the color you want, don't hesitate to get your order in! (You can always send it back for a full refund, including free return shipping, if you change your mind.)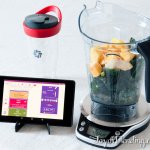 This deal gets activated if you click the following link and then add it to your cart: Recon V1200. You should see an extra $100 off plus a free smart scale show up in your cart. (Unfortunately the Smart Scale is not available in Canada, but you can still get C$130 off.) The V1200 is quite similar to the Ascent models, although its styling is a bit different.
The V1200 is one of the 5 smart models that is compatible with the brand new Food Processor Attachment.
While this is the only discount going this year, it is $50 lower than when they offered this deal last Labor Day.
This deal is compatible with the free shipping promotion code, which will be applied if you click a Vitamix link from this site.
---
Did you enjoy this post?