Vitamix has started their 2019 Labor Day Sale. You can an extra $100 to $160 on certain models! The sale includes both the US and Canada.
The Reconditioned A2500 and the Reconditioned A3500 are an extra $100 off. There's also a $20 discount that gets applied in cart if you click through one of the links on this page. That brings them down to:
Recon A2500 for $279.95 ($379.95 CAD)
Recon A3500 for $379.95 ($529.95 CAD)
Performance between these models is identical. In my opinion, the reason you might want to pay extra for the A3500 is for the premium metal finish options. (The other differences between them are quite minor; you can read more details in my Ascent review.)
Smart Scale Deal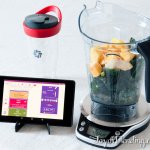 If you want the Vitamix Smart Scale, Vitamix is offering it for free with purchase of the Recon V1200. The V1200 is quite similar to the Ascent models, although its styling is a bit different. Unfortunately the Smart Scale is not available in Canada, but to make up for that, there are bigger savings on the Recon V1200. Again, this deal only appears after you click that link and add it to your cart.
The Classic Deal
The machines above are excellent. But if you don't want a machine with a digital display, or if you don't want Self-Detect (useful if you want to be able to use older containers), then you may be interested in the Reconditioned Next Gen 7500 (US only). It is currently $160 off if you click through that link (discount appears in cart).
Reconditioned Next Gen 7500 for $279.95
These deals are compatible with the free shipping promotion code, which will be applied if you click a Vitamix link from this site.
If you're shopping for a Vitamix this Labor Day and are looking for the lowest possible prices, you are in luck. If you want to better understand the various features, check out my Vitamix model comparison page.
These prices are scheduled to last until 11:59PM ET on September 6th, but they may sell out before then.
---
Did you enjoy this post?