GreenBlender and Vitamix sent me a Starter Kit, so here's a review. Vitamix is offering a unique promotion for new machines listed on Vitamix.com (excludes Turboblend 2 Speed and Reconditioned). Update: Extended through the end of March, and now also includes Certified Reconditioned 7500. You can get a free Vitamix Starter Kit from GreenBlender, which contains a filtration bag (for things like almond milk), fresh ingredients for 5 recipes, and a $20 GreenBlender gift card for future GreenBlender boxes.
This is what the box looked like as I opened it: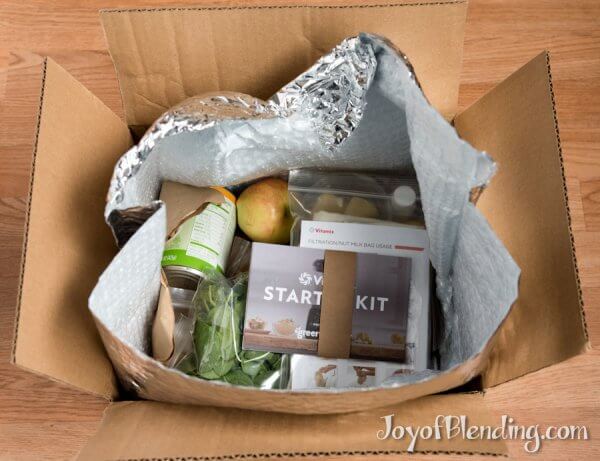 GreenBlender is a smoothie kit delivery service. This is not a "trial" subscription—if you don't want more GreenBlender, there's nothing to cancel and they don't collect payment information before shipping the kit. Available for all of continental US,1 through March 31st, or while supplies last.
The thing I like most about this promotion is that it answers the question of, "What is the first thing I should make in my Vitamix?" There are so many possibilities that it can be overwhelming for new Vitamix owners to decide where to start. By providing 5 recipes plus everything you need to make them, the kit makes getting started as easy as possible.
Delivery and Packaging
GreenBlender has distribution centers across the country, so the boxes don't have to travel too far. My package arrived via OnTrac, but they use different carriers in other parts of the country.
The GreenBlender boxes contain a lightly insulated bag, plus cold packs to keep ingredients fresh. The ingredients in my box were in great shape, and still very cold. The center of the package was ~35°F, and the cold packs were still frozen. I transferred the ingredients to my fridge when the box arrived, but I left the cold packs in the box to see how long they would stay cold, and they stayed partially frozen for another full day after delivery.
Recipes and Ingredients
Here are all of the ingredients with their recipe cards:
The recipes are on the simple side, which I guess makes sense for a set of first Vitamix recipes. (It looks like GreenBlender's normal boxes are more adventurous.)
All the ingredients are pre-measured, so making the recipes reminded me of using the Perfect Blend scale, except even easier. For the most part, you just dump ingredients in and blend, although the instructions did call for coring an apple, peeling a carrot, and squeezing juice from a lemon.
I found the recipes to be pleasant, but not overly exciting. I had to modify two of the recipes because I hate bananas. For the Going Green Smoothie I substituted in frozen mango, and for the Nuts and Grains Smoothie I substituted in an apple plus a little cinnamon.
The filtration bag is sturdy and made from hemp fiber. I normally don't filter almond milk, but many people prefer the smoother consistency you get from filtering. You can also use the filtration bag to make traditional juices (with pulp removed). I've used it to make carrot juice.
1. If you look on GreenBlender's website, they do not normally deliver to certain parts of the northern continental US. However, I checked, and for the Vitamix starter kit promotion, they are shipping to those areas. The only parts of the US that are not eligible for the free starter kit are Alaska and Hawaii. ↑