The sale prices on new machines have expired, but the sale on Certified Reconditioned models is still going. Check it out!
Here is my advice on the best buys of the 2017 Vitamix Mother's Day Sale. Through Mother's Day (May 14th), Vitamix is offering $50 to $90 off many models, including the latest Ascent line. Whether you want a sleek new Ascent model, or the lowest possible price on a Certified Reconditioned unit, this sale has something for you.
Vitamix is discounting almost all models: 16 in the US and 13 in Canada. Below, I will make some recommendations to narrow down the choices. You might want to check out the model selection tool over on my Vitamix comparison page to help decide what kind of machine you want.
Note that you can also greatly reduce your up-front cost with a Vitamix payment plan. Depending on the purchase price, you can spread payments over 6 to 24 months. (In Canada it's 5 months.) As long as you make timely payments, there are no interest or financing fees. (In case it's not clear, they send your machine after your first payment.)
A quick note about the savings indicated below: these are the actual savings compared to the prices directly before and after the sale. Many retailers play games with listing an elevated MSRP to make it look like you're saving even more, but I don't do those shenanigans.
Canadian dollar savings with links to that model on Vitamix.ca are indicated in parenthesis, where available.
Ascent models
If you want Vitamix's latest and greatest, one of these is for you. Released in late December 2016, this is the first time they've been discounted. You can read more about them in my Ascent review.
A2300 $469$399.95: physical switches, no presets (C$619C$549.95)
A2500 $519$449.95: physical switches, presets (C$719C$649.95)
A3300 $519$449.95: touchpanel, no presets (C$719C$649.95)
A3500 $619$549.95: touchpanel, presets (C$819C$749.95)
Professional Series 750
Pro 750 $599$529.95

: If you don't want the newfangled container detect system of the Ascent series, but otherwise want top of the line, this one is for you (C$759C$699.95). If you choose the brushed stainless or copper finish, the base has a fully metal shell. This makes it more elegant, and also muffles sound a bit more. Premium Copper finish is $669$579.95. 5 presets, pulse and variable speed, 64-oz low-profile container.
Reconditioned
Vitamix is discounting some reconditioned machines. At current pricing, I recommend picking between these:
5300 (short/wide container): $360.95$289.95
6300/Pro 500 (tall/narrow container + presets): $379.95$299.95
Whichever model you decide on, try to get your order in by the end of the day on May 14th at the latest, because these prices are going to go back up.
Dry Container Deal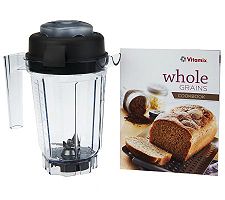 This container usually sells for $144, but right now QVC has it for $45 or $50 ($45 if you are new to QVC and enter code FIVE4U). Shipping is free! (QVC has run this deal in the past, but they used to charge shipping, so this is the best deal ever on the dry container.) Check out the sale: Vitamix 32oz. Dry Blade Blending Container with Recipe Book. Update: It's back-ordered now. You can still place an order, and I'd say it's worth a shot. You won't necessarily get it, but you'll only be charged if it ships.
This dry container is for any C- or G-Series Vitamix. It will not work on the Ascent or S-Series.
Other Vitamix Discounts
780 $719$649.95
: Vitamix's only fully-touch interface, with light-up LED touch screen, 5 preset modes, pulse and variable speed control, and 64-oz low profile container (C$879C$799.95). For more details, see my 780 review.
5200 $449$399.95: The classic Vitamix design of the past 25 years.
TurboBlend Two Speed $399$349.95: Classic with no variable speed, just high-low. I generally don't recommend this model because the lack of variable speed makes it less versatile. With these sale prices, variable speed is just $50 more. That said, if you will only make smoothies and smooth soups, you don't necessarily need variable speed. Variable speed is useful for when you want intermediate textures, like for a salsa or pesto.
S55 $469$419.95

: Personal-size, blend in to-go cup, with presets (C$539$489.95). For more details see my S-Series Review page.
S30 $399$349.95: Personal-size, blend in to-go cup (C$469C$419.95). For more details see my S-Series Review page.
This is an awesome Vitamix sale. The other big Vitamix sale is Black Friday, but this beats past Black Friday deals as well. If you are thinking about getting a Vitamix, don't miss out on this sale!
If you are struggling with the myriad options, I am happy to answer questions. I also highly recommend playing with the model selection tool on my Vitamix comparison page.
(This page is updated from the previous year's Mother's Day Sale, so comments from past years are still visible. Please feel free to ask any questions below!)
---
Did you enjoy this post?