Vitamix recently invited me to visit their headquarters in Ohio, where they gave me a tour of the main Vitamix factory. From the outside, it looks like a big generic building. In fact, it was so generic that I forgot to photograph the outside. Thanks to Bing Maps, here's what it looks like: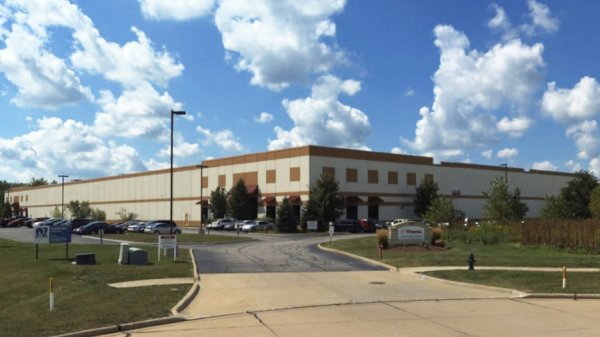 Once inside, I felt like I had stepped into Santa's workshop, with countless Vitamix machines in various stages of completion. The space felt huge. Forklifts cruised around the perimeter: bringing in components and moving out finished boxes ready for shipping. The production area has multiple lines. Not all lines were running when I was there, because it happened to be the day that employees were enrolling in their benefit programs.
The production manager enthusiastically explained how Vitamix has been applying lean manufacturing principles to increase efficiency. According to him, that involves constantly collecting suggestions from workers on how to make each station work more smoothly. This may explain how Vitamix has managed to keep prices steady for at least the past 20 years, while facing inflation and introducing additional features. (I don't have their full price history, but new machines in the '90s sold for about the same price as new machines today.)
Most of the assembly is still done by hand. They use tools like electric screwdrivers (hanging from above for efficiency) to apply just the right amount of torque. Much of the line is on rollers, so workers slide the unit along once they've finished their particular set of tasks. At certain points quality control checkpoints raise a physical barrier until a set of checks are completed. The pace is purposeful, but not frenzied.
I wish I had had more time to photograph the manufacturing process, but these photos give you a glimpse of how Vitamix blenders are made. I hope you enjoy them! (As usual on this site, you can click for larger versions.)
If you liked these photos, you might also be interested in my photos of the inside of a Vitamix machine.
---
Did you enjoy this post?