You can throw practically anything into a Vitamix, and it will blend to a smooth consistency. This leads many of us Vitamix owners to go through a phase of wanting to blend everything. So much power! But, as they say, with great power comes great responsibility. Some parts of produce can ruin a blend by being extremely bitter or fibrous. 
A good rule of thumb is if you would consider eating something without blending it, it's probably good to blend, and if you're unsure, you can try biting a little of it. If it's super bitter or you can't bite into it, you should probably leave it out.
The following are my opinions about which parts of produce are worth avoiding. I hope they will help you take a small step past the phase of this meme:1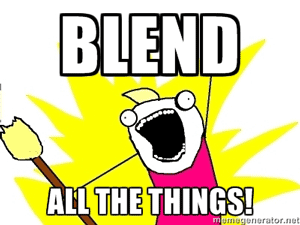 Blend MOST OF the things?
Always Remove
Mango peel
Mango pit
Date pits
Avocado peel
Cherry/Peach/Stone Fruit pits
Apple/Pear seeds2
Citrus peel (a bit is OK, including white pith is usually fine, though lime pith can be very bitter)
Pineapple skin/leaves
Pomegranate rind/skin (see my favorite technique)
Persimmon tops/leaves
Usually Remove
Citrus seeds
Persimmon seeds
Avocado pit (I don't eat it, some do, pretty bitter/fibrous)
Watermelon Rind
Strawberry greens
Occasionally Remove
Kiwi Skin
Ginger Peel
Carrot peel
Beet peel
A note on tough (but edible) seeds
If you want to blend a tough ingredient to as smooth a consistency as possible, give it a head start on blending (that is, blend it alone or with a little liquid before adding the rest of the ingredients): this will give it more time to break down, and the blades spin faster when there is less material in the container, so they can actually break things down finer. I use this trick most often on berry and pomegranate seeds. Also worth trying on melon/squash seeds.
Notes by ingredient
(I am adding links for ingredients previously described in more detail. For recipes on this blog with each ingredient, you can always click the ingredient over in the right sidebar. )
apple: Skin is fine, usually remove seeds, core, and stem.
asparagus: I've always lightly steamed it before blending in a soup, but it can be consumed raw, so a raw soup might be worth trying. I remove the very bottom if it's tough.
avocado: Some people blend the pit for alleged health benefits. I always remove the pit and skin (but I scrape out the skin with a spoon the make sure I don't waste any flesh.)
basil: I usually remove the thicker stems, although including some stems is fine
beets: I usually scrub with a vegetable brush then cut off and discard the very top and bottom and then blend raw. For a milder flavor you can cook and/or peel.
bell pepper: Usually remove the bulk of the seeds, but blending seeds is fine.
blueberries: Blend away!
broccoli: I usually lightly steam and blend into a soup. Some people like to add it raw to green smoothies.
butternut squash: I've always cooked it and removed skin and seeds. I know people who blend the seeds though. For maximum smoothness see the note above about tough seeds.
cabbage: I usually discard the outer leaves and the very bottom of the core. Can be added to smoothies, but I usually chop it for salad/coleslaw.
carrot: Usually just scrub with vegetable brush. For more delicate recipes where I want to minimize bitterness, I peel carrots.
cauliflower: I've always steamed it and then blended into soups. (OK, actually, I once blended raw cauliflower and onions thinking I'd cook it into a soup later: terrible idea; it smelled/tasted horrible.)
celery: I usually remove the very bottom and the very top, and have used it both raw and cooked.
cherries: Remove pits before blending.
chia seeds: Some people pre-soak them, but I don't think pre-soaking makes a difference for blending. I just add them dry. To avoid having any of them stick to the walls of the container, sometimes I wait to add them until after starting blending and a vortex has formed.
cilantro: I usually remove the bigger stems.
collard greens: I blend them raw in green smoothies, and I include the stalks. Strong taste, so usually pair with ginger and lemon or lime.
cranberries: Blend whole, but keep in mind they are tart, so it's usually good to pair them with something sweet.
cucumber: I usually cut off the stem, but included the seeds and skin.
garlic: I usually remove the skin, but apparently you can leave it on. Also, remember a little raw garlic goes a long way!
ginger: Sometimes scrape off the peel, but usually leave it on. I also usually cut into ~⅛" slices perpendicular to length of root to avoid a potential tangle of fibers.
grapefruit: Remove peel and visible seeds. For deluxe recipes can remove fruit from membrane sections as well.
green onion: Cut off very bottom right above roots.
kale: Can blend it all, raw or cooked. Slightly stronger flavor than spinach.
kiwi: The skin is fine to blend, although it is slightly bitter, so scoop flesh out of skin for delicate recipes.
kumquat: Usually remove seeds.
lemon: Remove peel and visible seeds.
lettuce: Usually remove the very bottom of the head.
lime: Remove peel and white pith. I've found the white pith to be more bitter than that of other citrus. Commonly available limes are seedless, but I'd remove seeds if I found them.
mango: Remove skin and pit.
mint: Remove tough stems.
onion: I always cook before blending in a soup. You can use raw onion if you only use a tiny amount, but watch out because the flavor is very strong. Remove skin/root.
orange: Remove peel and visible seeds.
peach: Remove pit.
pear: Remove core/seeds.
persimmon: Remove leaves and seeds.
pineapple: Remove top and skin. Core is fine to blend.
pomegranate: Remove skin/pith. Seeds are fine to blend, although they will add a slight gritty texture. If you want the ultimate in smoothness, you can blend on low, then strain out the seeds.
raspberries: See above note on tough seeds.
spinach: Stems are fine to include.
strawberries: I usually remove the green leaves, but you can include them.
sweet potato: I've always cooked before blending, but some people blend them raw.
tomato: Seeds and skins are fine to blend. Remove stems/leaves.
vanilla: You can blend whole pods. Cheaper (but less exotic) option is to use extract.
watermelon: I remove the skin, and some of the rind. The skin is OK to blend, but it is a little bitter. I haven't tried blending seeds, but I've heard that they are OK to blend.
I hope you find this useful, and, as always, please feel free to comment or ask about any ingredients below.
1. Cartoon originally from Hyperbole and a Half. ↑
2. Apple seeds contain amygdalin, which releases cyanide when broken down (stone fruits contain it as well). To be on the safe side, I think apple seeds are worth avoiding. I found a calculation that concluded that poisoning an adult would require ~140 seeds, or ~18 apples. However, that was calculating for a lethal dose of 1 mg/kg; cyanide has sub-lethal effects, and also total doses would be lower for children. The Agency for Toxic Substances and Disease Registry (ATSDR) recommends avoiding consuming apple seeds. They list 0.05 mg/kg as the Minimum Risk Level, which could be attained with the seeds of a single apple. However, if a few apple seeds slip into a smoothie I do not worry. ↑
---
Did you enjoy this post?