This smoothie is quite different from the others I've posted so far. I've been meaning to do more with mint, and it delivered on this one. This mint smoothie is sort of like a virgin mango mojito. The mango and chia seeds give it a bit of body or "creaminess," and the spinach boosts the green color. The mint makes it particularly refreshing for a summer day.
1/2 cup water
1 orange
1/4 pineapple
2 Tbsp chia seeds
handful of mint
large handful of spinach
1 cup frozen mango
4 ice cubes
Makes ~4 cups. Blend on high and enjoy!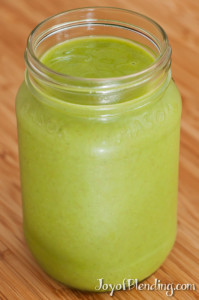 You could leave out one of the fruits, the chia seeds, and/or the spinach, and it would still be good, but it's really good with all of them.
If you can, I highly recommend growing a pot of mint so that you always have it on hand. It grows extremely easily, although I recently learned that I should ideally divide and re-pot mine since it's getting a bit overcrowded.
If you like this recipe idea, you can also make it with basil instead of mint.
---
Did you enjoy this post?