There are some sweet Vitamix deals to be had this month.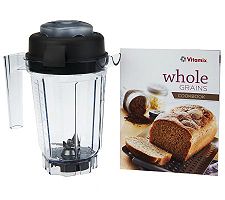 If you've been on the fence about buying a dry container, there is currently an unprecedented deal. The container retails for $144, and I've occasionally seen it for $100, but QVC is selling the Vitamix 32oz. Dry Blade Blending Container with Recipe Book for $50. There is a message that suggests purchasing it with a Vitamix machine, but I have heard from multiple people that QVC is shipping it alone without needing to buy a blender at the same time. Shipping is $8. I do not know how long this deal will last. Sold out on QVC, but it's sometimes discounted at Amazon.
Also, for the month of November Vitamix has further discounted their Certified Reconditioned Standard machines. (Standard refers to the machines that use the classic narrow containers, as opposed to the Next Generation machines that come with the new-style wide container.) This could make a great gift… I personally recommend the Reconditioned Standard for $299 (aka 5200 et al.), but if you are into presets, you can get them for $50 more with the Reconditioned Standard Programs (aka 6300 or Pro 500).
The Reconditioned Next Generation machines prices are unchanged, but thanks to reader John S, I just saw that the Black and Red Reconditioned Next Generation Programs (aka Pro 750) have come back in stock after a long hiatus. Those colors are $50 less than the Brushed Stainless finish, and I don't think they will be in stock for long.
Shipping is free if you click these links, or apply promotion code 06-007021. The reconditioned machines generally look indistinguishable from new, and they are backed by Vitamix's full warranty support for 5 years.
We'll have to wait and see if there are any other Black Friday or Cyber Monday Vitamix deals, but I would be surprised if there's anything as hot as these two deals.
Update: I made an updated post that summarizes all of the Vitamix and Blendtec Black Friday and Cyber Monday deals.
---
Did you enjoy this post?