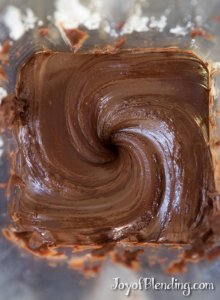 I almost always use my Vitamix for healthy blends, but it is also a useful tool for making decadent desserts. Here's a recipe for a delicious chocolate buttercream frosting that comes from a 1973 edition of Joy of Cooking. It's listed as Easy Chocolate Icing, and it's the one my mom has been using for chocolate birthday cakes for decades.
Using a blender makes it easy to get a perfectly smooth frosting. It's a pretty thick blend, so it's nice to have the extra power of a Vitamix. (I could see it burning out a smaller blender if you weren't careful.)
Ingredients
3 oz unsweetened chocolate (or substitute 9 Tbsp cocoa + 3 Tbsp butter)
2 Tbsp butter
1.5 cups granulated sugar
½ tsp salt
2 tsp vanilla
6 Tbsp light cream (plus 1 Tbsp if too stiff)
Melt the chocolate and butter in a double boiler, or carefully in a microwave. (A microwave can burn the chocolate if you don't keep a close eye on it.) Blend just the sugar on high for ~1 minute to make powdered sugar. Then add the rest of the ingredients and blend on medium speed until well-combined. The tamper comes in handy to keep it mixing.
A long, narrow, and rigid spatula will be helpful for scraping out the frosting from the container, and you can also use it to spread the frosting. It's best to scrape it out and use it right away, because it thickens as it cools.
Enjoy!
---
Did you enjoy this post?